Situated in Tunisia, DjerbaKite is the only spot – school of the Djerba Island gathering all the criteria to learn and perfect in complete safety.
A little deep lagoon or you stand everywhere. The depth varies between 40 and 130 cms. Our spot is guaranteed without waves what returns the easier learning and the faster evolution. The lagoon makes 40km2 with routes straight of 10km. Indeed the lagoon is 10×4 km.
Our school also has a private beach of 300m completely dedicated to the kitesurf for the take-off and the landing. No fear of striking other people or obstacle because the bathing is forbidden. Navigate in our spot calmly.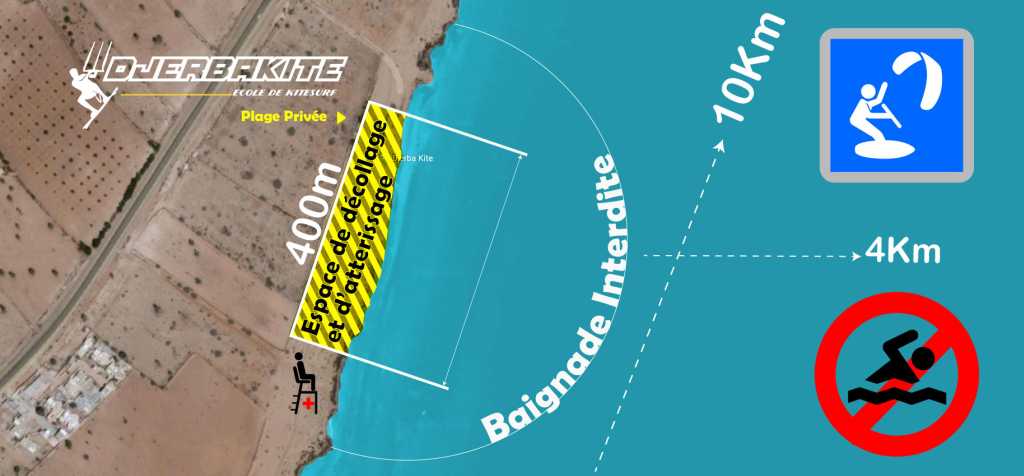 Apprenez et progressez avec notre école de kitesurf à Djerba
Notre école de kitesurf vous propose de nombreuses formules de stages de kitesurf pas cher à Djerba, pour débutant, pour expert ainsi que des stages de kite et foil sur mesure.
Pour vos cours de kitesurf , notre école de kitesurf met à votre disposition des moniteurs expérimentés en nombre nécessaire, du matériel neuf et de qualité, un système audio afin d'avoir les conseils personnalisés du moniteur. Avec notre spot de kitesurf, il n'y a ni vague, ni courant, vous aurez pied quasiment partout, ce qui est idéal pour le kitesurf de débutant.
L'équipement de kite que propose notre école de kitesurf, en majorité de marque Cabrinha, est entretenu, vérifié et renouvelé chaque saison afin de garantir la sécurité de nos clients.
Tout est réuni dans notre école de kitesurf à Djerba pour vous faire passer des moments exceptionnels.
N'hésitez pas à consulter les tarifs de nos stages de kitesurf à Djerba.
Vous souhaitez réservez votre stage de kitesurf à Djerba ? Contactez-nous dès maintenant.